PARIPESA BOOKMAKER REVIEW
WHAT MAKES PARIPESA A GOOD BETTING SITE
Paripesa is an international betting site, which started accepting players from Nigeria in late 2020 after acquiring a license from the Oyo State Gaming Board. Given they already have experience running a successful sports betting business it is only logical that the Nigerian site will deliver a good overall experience to its players, however let's still have a closer look at their services to make sure this is actually the case.
Paripesa website runs on a platform, which you may have already seen with other reputable bookmakers out there, so this guarantees that everything loads quickly and even though there is no app – the website is exceptionally well-optimized for mobile devices.
You will be able to make deposits with almost any local bank and of course all transactions are done in Naira, so there is no need to get all confused with exchange rates. Apart from regular currency you are also free to use all most popular cryptocurrencies.
All of the above is already a good explanation of why thousands of Nigerian sports fans visit Paripesa on a regular basis. Nevertheless, let's dive deeper to see what else we can find here.
Registering an account at Paripesa is quick and the only thing you need to have in order to get started is a valid phone number. You will be required to verify your phone number with a text message and after that your login credentials will be sent to you in a follow-up text message – at this point you can already log in and start playing.
In case you will run into any issues while trying to create an account, you are welcome to watch our Paripesa registration video.
The second possible registration option is "one-click" registration – all you have to do is literally just click a button and your account will be created. Your new username and password will be automatically generated and you will see them in a pop-up on the screen. You can choose to save them as a picture or text file on your device or get them emailed to you. The entire registration process will take you around a minute to complete.
We strongly recommend to keep all your contact information valid and up to date. This will ensure that you will be able to easily recover your password in case you ever forget it. Even if your contact details are not up to date, you can always get in touch with support and they should be able to figure something out.
Paripesa also has a nice welcome offer to help new players get started – upon making your first deposit you can get a 100% bonus up to ₦100,000 to be used on sports betting. The minimum deposit you have to make in order to claim the bonus is ₦450. Even though the amount might not seem that large at first, the true value of the bonus is determined by how realistic are the wagering requirements – Paripesa welcome bonus has to be wagered only 5 times. Additional conditions state that your bonus bets should have at least three selections and should have odds of at least 1.40. These conditions stand out as a lot more reasonable when compared with other Nigerian betting brands.
If you ever run into any trouble you always have the option to use the 24/7 live support chat to get assistance, as well as that in cases you can also submit a form with your question or concern – chats are, of course instant and submitted tickets receive a response within 24 hours. We would also like to add a note from ourselves – in order to give a full picture of the offered services we had several interactions with Paripesa support ourselves and we can confirm that they speak good English and approach all issues in a polite and professional manner.
SPORTS BETTING SECTION AND ODDS
You can bet on over 30 different sports at Paripesa and they generally have quite an impressive offer of pre-match games available – at any given day you are likely to find over 2000 pre-match games across different sports, which you can bet on. To give you a better understanding of what to expect we can have a look at football betting as an example – high profile football games normally have over a 1000 markets to choose from, while less popular leagues may have from 500 to 700.
We would also like to highlight the fact that a lot of games have an impressive number of various special and combination bet types available. You will be able to bet on things like the minute of the first goal, team to score + total, goal intervals, correct score groupings and much more. The smallest possible bet you can place here is ₦30, so this is one of those places where to bet with 50 Naira.
Live betting at Paripesa appears to be as impressive, as you may understand the number of live games largely depends on seasons, yet if we take the average monthly number – there are over a 1000 live games traded monthly.
For example, let's look at a Club Friendlies game – at any point while the game is live, you will see over 20 markets being opened concurrently. During more intense periods the number of traded markets can be even higher. Betting is open until the very last minute of the game and cashout is also available.
Quite often you will also have an option to watch a live video stream of the game. It is, however, worth mentioning that live video streams can be viewed only in the mobile app.
BetBuilder functionality is one of the latest large-scale innovations in the betting industry, yet not many sports fans actually know about it. Even those of you, who know what Betbuilder is, might have never tried it.
Let's start off by outlining what BetBuilder is – it is a special feature that would allow you to build accumulator bets using selections from the same game. Traditionally, betting operators do not allow combining selections from the same game in one bet because calculating odds becomes a lot more complicated. BetBuilder uses a different odds calculation algorithm that supports same game accumulators – it is available for pre-game and live betting.
Now that you know what BetBuilder is, let us tell you where to find it. When you open a football game, you will see a navigation bar for the different sections you can access (i.e.summary, lineups, statistics, etc.). One of the icons in the list (if BetBuilder is available) will look like a construction crane – press on that icon to open the BetBuilder section. Not all games support this functionality, so don't worry if you will not see it on some games.
When you move over to the BetBuilder section, you will see a widget with an "Add Market" button and a box where you can add your stake. Start adding markets one by one, make sure to not add conflicting selections. Once you are happy with your bet, insert your stake and press the "Place a Bet" button. Your BetBuilder accumulator will then be added to your betslip. BetBuilder accumulators cannot be combined with regular single or multi bets.
The betting process consists of all the same steps regardless of whether you are using the apo or the website. To be honest, most of you don't need us to tell you this – as you are already fairly experienced bettors. Still, some of you might be new to this or might have been using other betting interfaces. If you run into any difficulties when trying to place a bet, try following the instructions given in this section.
First Step – Open the Sports Section and Find a Game
Now, that you have the Paripesa app installed on your device – you can sign in using your login credentials. The app's homepage will give you a quick overview of the most popular games that are going to start soon. You can choose one of the games you see on the screen or you can move over to one of the sport-specific sections of the app to see the full list of games and tournaments available for the sport you are interested in.
Once you tap a sport from the list of available ones – you will see a full list of leagues that are currently open for betting. Tap any league that catches your eye to see all games that are currently open for betting.
Step Two – Find a Market and Selection to Bet on
Once you decide which game you would like to bet on, it is time to pick a market. When expanding a game, you will see a complete list of all available markets. You can either scroll through that list until you find something that you want to try your luck with, or you can use one of the available market filters.
Additionally, if you know exactly what you need – you can use the search functionality. This gives you the option to find a market or an outcome based on its name.
Step Three – Open the Betslip and Add Your Stake
Finally, the last step is to add your selection to the betslip and insert your stake. Your stake is the amount you would like to bet on. A selection is the outcome you would like to bet on.
Tap the selection you want to place a bet on and it will be added to your betslip. Now open the betslip section from the bottom bar of the app. Insert your stake and confirm your bet and you're all done.
SPORTS COVERED BY PARIPESA
American Football, Bicycle Racing, Boxing, Darts, Field Hockey, Floorball, Formulal1, Gaelic Football, Golf, Greyhound AntePost, Greyhound Racing, Weather, Horse Racing, Horse Racing AntePost, Hurling, Lottery, Martial Arts, Motorsport, Muay Thai, Poker, Politics, Rugby, Ski Jumping, Special Bets, Toto, Trotting, Trotting AntePost, TV-Games, UFC, Water Polo
As Paripesa operates under a valid Nigerian license you can be sure that you are going to see some of the go-to payment options accepted here, in addition to that Naira is the main currency here. All bank transfers are applied to your account within 15 minutes, while usually it is almost instant and most withdrawals are processed within 24 hours. Deposits can also be made using a number of cryptocurrencies. The following cryptos can be used: Litecoin, Bitcoin, Bitcoin Cash, Ethereum, Ripple, Tether, ZCash, Dogecoin.
 The minimum deposit you can make is only ₦450, so you are not forced to make large deposits and the minimum possible withdrawal is ₦650.
PARIPESA WITHDRAWAL – HOW IT WORKS?
At some stage you will be at a point where you will want to take your winnings out of your player account and into your bank account. Withdrawing money from your Paripesa account is easy and quick as long as you follow all the right steps in the correct sequence.
There are a number of things you need to do before you can request your first withdrawal. If your account doesn't have all the required information yet or is not secure enough – the withdrawals page will return an error. Don't worry, this is not the end of the world. Follow each step laid out below and you will not have any issues getting money out of your Paripesa account.
ADD YOUR PERSONAL INFORMATION
First of all, you need to make sure that your player profile is complete. Head over to the "My Account" section and hit the "Fill in personal data" button. Make sure to add all required information on this page. You will be asked for your name, address, date of birth and document (passport / ID card) information. Double-check everything before you submit it.
ADD YOUR MOBILE PHONE NUMBER
Your account has to be secure and your mobile phone number plays an important role in keeping it safe. Again, go to "My Account" and tap the section called "Phone number". You will need to enter your phone number and confirm it. Once confirmed, you will receive a text message with a 4-digit code. Enter that code on the Paripesa app or website. All done – your phone number is now successfully attached to your player account.
Now that all your personal information and contact details are up-to-date and verified, it's time to add some security. Open the "Settings" page, it's the little gear icon in the top right corner of the screen. Find the "Security" section and open the "Security settings" page.
This page will give you a checklist of things you need to do in order to secure your account. You should already have your phone number added, your password should be changed every 90 days, and your personal profile should also already be filled in. The only missing things are the security question and 2-factor authentication.
Tap the "Security question" tab, select your security question, add your answer and save it.
Now, go back and tap the "2-Factor Authentication" tab. You will be given a QR code, which you need to use with the Google Authenticator app. Save the QR code and scan it using the authenticator app – Paripesa should now appear on your authenticator app list.
SUBMIT A WITHDRAWAL REQUEST
Your account is all set and fully secure – you can now make a withdrawal request. Navigate to the "Settings" page and press the "Withdraw" button. You should now see the withdrawals page that lists all the supported payment methods. Pick the one you would like to use, enter the amount you would like to withdraw and press the "confirm" button. You are all done, just need to give it some time now.
At some point you might be asked to complete the KYC (Know Your Customer) check by sending over a photo of your valid ID documents. This something that every legitimate sports betting brand does, so don't worry, this is perfectly normal.
Use our exclusive promo code to get an extra warm welcome at Paripesa – we want to make sure that you get the best possible betting experience, especially if it is a bookmaker, who we recommend. This is why we have a special topbettingsites.ng promo code for new Paripesa players – this code will give any new player a 100% first deposit bonus. You can even share the code with your friends – it works for each and every new player.
New players at Paripesa can get a 100% deposit bonus up to ₦100,000 to be used on sports betting. In order to claim the bonus you have to make a deposit of ₦450 or more.
Wagering: 5x
Minimal deposit: ₦450
Bonus valid for 30 days
Required odds: 1.4 or higher
OTHER PROMOTIONS AT PARIPESA
Existing players can also have a piece of the pie – Paripesa has quite a few exciting offers for you to use on a daily and monthly basis. You can insure your bets to get your losing stakes refunded, you can have your accumulator odds increased, you can even get a birthday present.
You can receive a 25% deposit bonus every day. The maximum bonus amount you can get per day is ₦20,000 and the minimum deposit you have to make in order to get activated is ₦1,500. This offer is available for all Nigerian players and can be claimed once every 24 hours.
Wagering: 5x
Minimal deposit: ₦1,500
Bonus valid for 30 hours
Required odds: 1.5 or higher
ACCUMULATOR BET ODDS BOOST
Every day Paripesa offers an "Accumulator of the Day" combination, which will have its odds increase by 10% if you choose to place that bet.
You can insure your bets – depending on your stake, you can pay some extra money to "insure" your bet and get your stake back in case it loses. Let's have a look at an example of how this works: say you placed a ₦5,000 bet with odds of 2.00 – your potential winnings are ₦10,000. Now you want to insure 100% of your bet, so you pay another ₦2,500, which is taken out of your current available balance.
If your bet wins – you will be paid the full ₦10,000. Given that you had already paid ₦2,500 as an insurance, your overall profit will be ₦7,500 – if you use this functionality wisely it can significantly help you manage your risks while betting.
If your bet loses – you will get your original ₦5,000 stake back. Given, that you had already paid ₦2,500 to insure your bet – your overall loss is ₦2,500 instead of the full ₦5,000.
BONUSES FOR LOSING STREAKS
If you have a series of unfortunate bets Paripesa will give you a bonus to make your day at least a little bit better – the bonus is applicable to players who had a series of 20 or more losing bets in a row. The bonus amount you are going to receive depends on the size of your lost bets.
On your birthday you are going to receive a text message from Paripesa with a special promo code, that will give you a free bet, so be sure to have a valid phone number registered.
Visa, Paystack, GT Bank, Globus Bank, Polaris Bank, Providus Bank, Titan Trust Bank, First Bank, GTB, UBA, Zenith Bank, Access Bank, CitiBank, EcoBank, Fidelity Bank, FCMB, Heritage Bank, Keystone Bank, Stanbic IBTC Bank, Standard Chartered Bank, Sterling Bank, Suntrust Bank, Union Bank, Unity Bank, Wema Bank
If you found yourself reading this page – you are most likely familiar with Paripesa and simply want to know more about their betting app. However, if you want to know more about Paripesa as a betting brand, we recommend reading our review page first.
Initially Paripesa offered betting only on their mobile platform, meaning you needed to open up their mobile website using an internet browser. Generally, that wasn't an issue as their mobile website is very well optimized even for older devices.
Nevertheless, having an app, which is usually a lot easier to access and quicker to open sounds like a good idea. Therefore, Paripesa introduced their own mobile app. Initially their application was only available for Android devices, as the process of getting an app featured on Apple's app store is quite lengthy. Now, the iOS app is also available, so we would like to give you a full and detailed overview of both Paripesa apps along with any additional information you might need.
The Android app is the first one that became available to players from Nigeria. You can download this app directly from Paripesa official website or using the download link below.
Paripesa App Download (APK) and Installation
You can run the Android app on any device with a version of 5 or higher. If you are using an older version – you will need to stick to the mobile website for now.
Follow the steps described below to install and open the application on your phone.
First Step – Download the APK File
Press the green download button and to start downloading the app. Your phone can give you a pop up with a warning (as seen on the picture), you will need to press the "Ok" button to proceed.
Second Step – Install the App
Once the app is downloaded you will get another pop-up asking whether you want to open it. Press the "open" button to proceed.
At this stage your phone can give you a warning that the app is from an unknown source, so it requires additional approval. Chrome will give you an option to go over to the settings page.
On the settings page, you will need to enable the "Allow from this source" switch.
Once you do that, you need to tap the installation file again to install it on your device.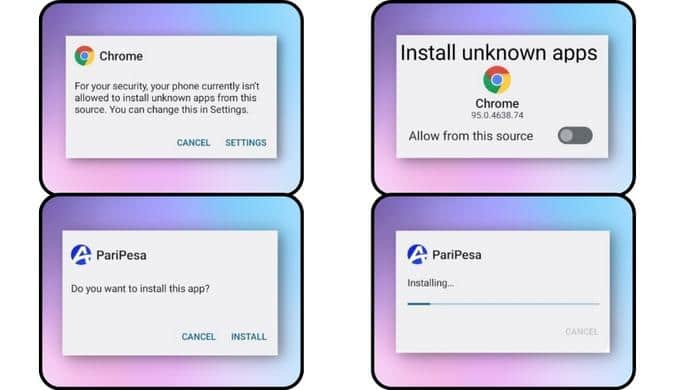 Step Three – Open the App and Sign in
Now, you should see the Paripesa app being available on your phone's home screen. You can log in using your existing account if you have one or you can create an account directly in the app. If you want to know more about how exactly to sign in – you might want to check this section below.
As we already mentioned earlier – now Paripesa also has an iPhone app. You can find a link to the app on their official website, we will also give a link to the app here.
Paripesa App Download (iOS) and Installation
Even though there is an iOS app, you can't actually run it on any Apple device. There are certain operating system requirements as well as free disk space requirements. Make sure your phone meets these requirements before downloading the app.
You should have at least 357 MB for free disk space on your device, however we would recommend having more as your phone needs free disk space to function properly.
Your device's iOS version should be 12.0 or later – older OS versions are not able to run this application.
First Step – Download the iOS App
You can find the Paripesa app on the App store or you can just follow the link below, which will also take you there.
Download the application and wait for it to install. After the installation is complete – you should see the app icon on your phone's home screen
Second Step – Open the App and Sign in
Now, you should see the Paripesa app being available on your phone's home screen. You can log in using your existing account if you have one or you can create an account directly in the app.
PARIPESA DESKTOP SITE OVERVIEW
A functional and user-friendly interface design is usually a good sign when it comes to betting sites, as this will enable you to find exactly what you need in just several steps, markets and selections should be clearly visible and understandable while the betslip part should show all details relevant to your bet and additional options and/or features if applicable. Below are some examples of how Paripesa online sports betting section looks like.
Paripesa appears to have a fairly "regular" layout, which is common among betting sites in general and this is actually positive thing – you are already familiar with the interface and will be easily able to navigate and find what you want even if you are new here. Both, the desktop and mobile versions load quickly and the functionality is the same for the most part.
We are going to take a closer look at the live betting section – as you open up any game you will see a scoreboard, which has a number of useful details such as standings and lineups as well as a full timeline of the game, allowing you will know what happened at which point in the game even if you opened it up half-way through.
The market view sits in an interface you should already be used to as well – you can configure the layout, you can sort markets base on their types and categories and you can search for a specific market using a search box.
PARIPESA AFFILIATE PROGRAM
Apart from making money using your betting knowledge, you can also promote Paripesa and get a revenue share from every single player you refer. By default you will be getting 40% of whatever revenue your referred players bring.
First, you will need to register an affiliate account – click the below button and complete the registration process. You will then receive an email from one of Paripesa affiliate managers to let you know that your account has been activated. You can then discuss your revenue share conditions and even get your own personal promo code, which people will use when registering. Once you are all set, you can now start promoting Paripesa – you can do it via social media, on your own personal blog or website or even in real life by sharing your promo code with other people.
You will also have access to the affiliate control panel, where you can review your earnings, see daily reports and track your payouts. Get in touch with your affiliate manager to pick the best possible withdrawal option for you.
FAQ | FREQUENTLY ASKED QUESTIONS
Yes, Paripesa holds a valid Nigerian sports betting license issued by the Oyo State Gaming Board. You can check their license on the regulator's official website.
HOW TO REGISTER AT PARIPESA NIGERIA?
The registration process is surprisingly stress-free, all you need to have is a phone valid phone number – first, follow the registration link and it will take you to Paripesa website, where you will need to click or tap the "Registration" button. You will then need to input your phone number and press "Send SMS" – a text message with a code will be sent to your phone, take that code and insert it into the "confirmation code" box of the registration window and press "Register". You are now good to go, a text message with your new user ID and password will be sent to your phone.
HOW TO CLAIM THE SPORTSBOOK WELCOME BONUS?
In order to be eligible for to claim the welcome bonus you will need to tick the "SPORTS" bonus option in the registration window, when you will be registering an account. You will need to be careful here, because there are also two other options here – a casino bonus and no bonus at all, so make sure you pick the correct one. Apart from that all you have to do is make your first deposit of ₦450 or more and you will get your bonus.
WHAT IS THE MINIMUM DEPOSIT?
The minimum deposit you can make at Paripesa is ₦450.
WHAT IS THE MINIMAL WITHDRAWAL?
The minimal withdrawal you can request is ₦650.
The minimum stake for a single selection is ₦30.
A bet, which had already been accepted cannot be cancelled, however you can use the "Sell Bet Slip" feature to cash out your bet at the current odds.
DO I NEED TO VERIFY MY ACCOUNT?
You are not required to verify your account when you start playing – you will however need to complete the KYC process before making your first withdrawal.
HOW TO DELETE MY ACCOUNT?
If you want to close and / or delete your Paripesa Nigeria account, you will need to get in touch with support – they will be able to assist you with this.
Paul Echere – a life-long sports fan with a career in the betting industry. Paul has worked with many betting operators and platform providers since the very early days of iGaming. Having years of experience with numerous bookmakers, Paul is in an excellent position to review and rate sportsbook brands. Feel free to follow him on Facebook and LinkedIn to find out what he is up to.