WHAT MAKES MELBET A GOOD BETTING SITE
Melbet is easily one of the biggest names in sports betting today – they operate internationally across several continents and the good news is they are also available for sports fans in Nigeria. Generally, Melbet have been around since 2012 and they have also been given a sports betting permit by the Oyo State Gaming Board and the National Lottery Regulatory Commission to legally operate in Nigeria. Their applicable terms and conditions are clear, transparent and reflect everything that should be taken into account as per their permit.
Melbet's website uses one of the best betting platforms out there – looking at their interface you will likely find it visually similar to some other bookmakers you might have used. This means that players will have access to a top-notch live streaming service and ensures that all available features run smoothly on most devices as well as that it should allow you to quickly get used to the navigation.
Melbet offers several quick ways to register an account – you can register the "regular" way using your email address to receive a verification link to complete the process, you can use your phone number and the quickest registration can be done using the "One-click" option. In this case all you have to do is literally click a button and you will be instantly logged in and your new username and password will be shown to you on the same screen – you can then have them emailed to you or saved on your device as a text fine or a picture. All together the above-mentioned registration options will take between 1 and 3 minutes to complete.
Melbet has a generous welcome offer for new players – There are two different welcome bonuses to choose from. They have slightly different conditions, so it is up to you to figure out which one works best for you. The first one gives you a 200% bonus up to ₦100,000 for your first deposit and you don't even have to go all in to claim the bonus, as the minimum deposit requirement is only ₦455. The second option is for you to go with the 300% welcome bonus up to ₦100,000 – this is a bigger bonus, but the wagering conditions are arguably a bit trickier to fulfil. We cover both of them in detail in out "Promotions" section below.
Finally, Melbet has 24/7 support available to help you out with any questions you might have, we had several chats with them and every single time they were quick, professional and polite, so definitely feel free to give them a ping if you will ever need any assistance. One of the best things about their support service is the fact, that they have an actual phone number. Whenever you have a complicated issue, you would like to discuss – you can just give them a call instead of writing everything down in a chat window.
Melbet offers betting for more than 35 different sports with a wide range of betting markets even on less popular leagues, so there will always be some nice betting opportunities available for you even if there are no top-level tournaments taking place at the moment. You can normally find quite good odds and they are easily comparable to industry-leading bookmakers. Football is where Melbet goes the extra mile, so quite often you have a chance to see odds, that you will not find elsewhere.
At any given moment you can find over 2000 pre-match games available and open for betting and just to give a better understanding of the actual offering we can have a closer look at football. About a half of Melbet's pre-match offer consists of football, so that is around a 1000 games and each game will have between 700 and 1500 markets open – numbers speak for themselves. One additional noteworthy thing here is the vast variety of football markets. Sometimes you may find different special or combined markets, that you aren't going to find elsewhere. For example, markets like "At Least One Team Will Not Score + Total", "Goal From Outside The Penalty Area", "Headed Goal" and many more.
American Football, Australian Football, Bandy, Basketball, Beach Soccer, Biathlon, Bowling, Boxing, Chess, Cricket, Cross county Skiing, Crossfit, Curling, Cycling, Darts, Entertaiment, Entertainment, Figure Skating, Floorball, Football, Formula 1, Futsal, GAA Football, Golf, Greyhounds, Handball, Horse Racing, Ice Hockey, MMA, Martial Arts, MotoGP, Motor Sports, Netball, Olympic Games, Pesapallo, Rugby, Rugby Union, Speedway, Surfing, Swimming, TV, Table Tennis, Tennis, Triathlon, Trotting, Volleyball, Water Polo, Winter Sports, Baseball
Melbet has an awesome live streaming service, which allows you to watch all world's top sporting events and biggest football leagues for free in high quality. In addition to that the live streaming service comes with a "multi-live" functionality, that allows you to watch up to four different games at the same time, you can have a look at it yourself in our review video above.
Having a well-optimized mobile version of their website doesn't stop Melbet from giving their players a handy application, that consumes way less bandwidth and still gives you full access to all offered features. Both, Android and iOS apps provide you with an interface similar to the actual website, so you can intuitively navigate and find what you need without any trouble at all. Both applications don't take up a lot of space on your device, thus can be quickly installed and downloaded.
Even though Melbet is an international brand – they do operate under a Nigerian license and have a Nigerian version of their website tailored specifically for this region. This means that they will accept most payment options that Nigerian players are used to, as well as that Naira is the main currency here, so there is no need to get all confused in exchange rates. The minimal deposit is only ₦250, while the minimal possible withdrawal will vary depending on the payment method you chose, however the minimum would be ₦550.
We would like all our visitors to get an extra warm welcome at Melbet, so please make sure to use our exclusive promo bonus code 100NGN to claim an incredible 200% welcome bonus.
Melbet are extremely happy to see new players, which is why they have such a big welcome bonus – be sure to use our promo bonus code when registering an account and you will get a 200% bonus up to ₦100,000 for your first deposit – all you have to do is simply click the registration link and follow the steps as instructed. Please make sure to full out all your personal information before making the deposit.
Wagering: 12x
Minimal deposit: ₦400
Bonus valid for 30 days
Required odds: 2.1 or higher
The second option, which is available for you as a new player is a 300% deposit bonus also up to ₦100,000. This offer gives you a better boost for your deposit, however it has slightly different conditions. First off, the minimum required deposit is reduced to just ₦250, the required odds have been raised to 2.30 and the rollover requirement was reduced to 8. One other important thing to keep in mind – this bonus has to be wagered using accumulator bets with 6 or more selections. Please make sure to fill out all your personal information before making the deposit.
Wagering: 8x
Minimal deposit: ₦250
Bonus valid for 30 days
Required odds: 2.3 or higher
Melbet has an alternative welcome offer for you – you can get a ₦12,000 free bet instead of the regular welcome bonus. In order to get the free bet your first deposit will have to be at least ₦4,000 and has to be fully wagered. If you fulfill this condition the free bet will be automatically credited to your account. Please make sure to full out all your personal information before making the deposit.
Wagering: 3x
Minimal deposit: ₦4,000
Bonus valid for 30 days
Required odds: 1.4 or higher
OTHER PROMOTIONS AT MELBET
Melbet have regular offers for their existing active players as well, there are generally quite a lot of them and new ones are added on a regular basis, below are the ones, which we believe deserve the most attention. Besides the ones we highlighted below you will also see offers like loyalty points and bonuses, weekly deposit bonuses, birthday presents and more.
MONTHLY LEADER BOARDS WITH CASH PRIZES
Every month 50 most active Nigerian players will get prizes, which depending on their place can range between 500,000 and 20,000,000!
100% ACCUMULATOR BET REFUNDS
If you have an accumulator bet with seven or more selections and all of them are correct besides one – you will get all your money back!
Place 100 or more bets in the course of 30 days and claim a bonus equal to your average stake. Only bets made at odds of 1.3 or higher will count for this promotion.
USE THE BETTING APP AND WIN PRIZES
Melbet does a good job incentivizing players to use their mobile betting app, you get a chance to win amazing prizes every month. Do the following if you want to test your luck to see if you will be able to win something: create an account (follow the registration link), download the app, sign in and start betting. Your bets have to be accumulators with at least 3 selections, each one has to have the odds of 1.60 or higher and the stake has to be at least ₦500. Each bet like this will give you 1 point, the more points you have – the higher are your chances of winning. Every month the top 10 players with the most points will get guaranteed prizes. Top 1 to 3 players will get different versions of iPhone 12 and top 7 to 4 players will get AirPods.
Zenith Bank, First Bank, GT Bank, Credit/Debit Cards, Paystack, Ecopayz, FSDH Merchant Bank, Providus Bank, Polaris Bank, Quickteller, Sterling Bank, UBA, Wema Bank, FCMB, Access Bank, Unity Bank
MELBET DESKTOP SITE OVERVIEW
A functional and user-friendly interface design is usually a good sign when it comes to betting sites, as this will enable you to find exactly what you need in just several steps, markets and selections should be clearly visible and understandable while the betslip part should show all details relevant to your bet and additional options and/or features if applicable. Below are some examples of how Melbet's online sports betting section looks like.
Melbet uses a platform, which you might have already seen before with some other bookmakers. This is definitely a good thing – apart from being very well optimized for mobile devices, it is extremely easy to navigate. Most sections of the website will feel familiar even if you are here for the first time, so you shouldn't have any troubles finding what you are looking for.
The sports selection part on the left has an indication of the number of available games for each sport – this allows you to have a good overview of what to expect and eliminates the need to jump between pages. The same applies to individual games – each game has a number next to it, this number shows you how many markets are open for betting.
Finally, we would like to mention the "multi-live" feature, which allows you to have up to four live games open on the same screen. You can watch scores and statistics, monitor odds and place bets – you can even combine selections from different games in the same betslip and all that can be done on the same page.
If you are active on social media, have your own personal blog or website or are generally a sociable person – you might be interested in signing up to become an affiliate. Melbet offers you a chance to promote their brand and earn money from every single new player you refer.
To get started you will need to submit an affiliate registration form. To do so simply follow the link below and fill out the registration form. Once you submit the form it may take a couple of days for Melbet to review and accept it. You will receive an email notification as soon as your account will be approved.
You can then sign into your affiliate dashboard where you will get your own affiliate links and unique promo codes. Now you are all set – you can start promoting Melbet by sharing your links and promo codes. You will get life-time revenue share for every new user you refer. Once you've made some progress you can sign into your affiliate dashboard to see your earning, player statistics and payouts.
FAQ | FREQUENTLY ASKED QUESTIONS
IS MELBET RELIABLE AND SAFE?
Melbet holds a sports betting operations permit issued by the Anambra State Gaming Company and operates in accordance with local rules and regulations. You can always check the validity of their permit on the regulator's official website.
HOW TO REGISTER AT MELBET?
Melbet registration process is quick and easy – first of all, click the registration button and you will be taken to Melbet registration page where you will need to select the registration option, which you would like to use. There are three possible ways to register.
Phone registration is quick and easy – you will need access to a mobile phone in order to complete this. First of all, you will need to enter your name, password and phone number. Once you complete the registration form you will be sent a text message with a link you need to follow in order to finalize your registration.
Email registration will require you to fill out a registration form with your personal details and, of course your email address. Once you complete and submit the form you will be sent a verification link to your email address – you will need to open the link in order to verify your email address and finalize your registration.
One-click registration is the quickest possible way to register. You have to literally click one button, your new account will be created, your new username and password will be generated automatically and will be shown to you in a pop-up. You can then save them as a text file or a picture to your phone or have them sent to your email address.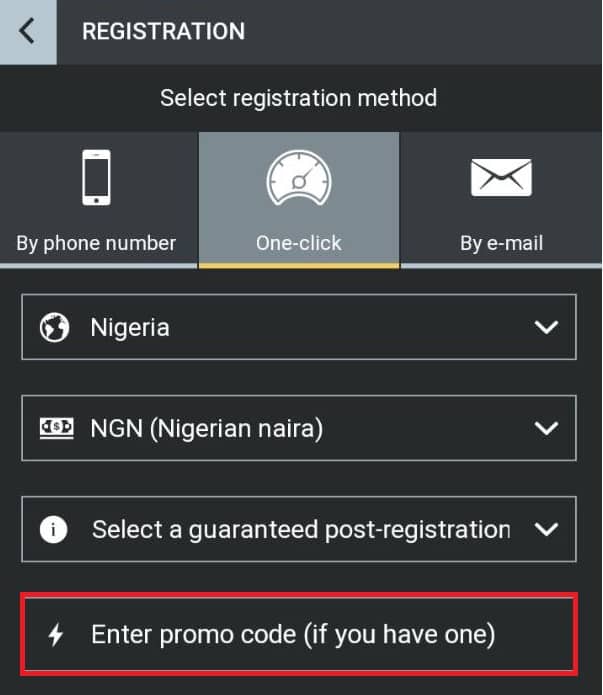 HOW TO CLAIM THE WELCOME BONUS?
You will need to select your bonus on the registration page and as a newly registered player you can claim a 200% welcome bonus for your first deposit. There are a couple of things we recommend you keep to make sure you don't miss out on the bonus.
Make sure to fill out all of your personal information in the "My Account" page – the bonus will be automatically credited to your account, however this will only happen if all of your personal information has been added.
The minimum deposit you have to make in order to get the welcome bonus is ₦400.
You can also get a ₦12,000 free bet as an alternative to the regular welcome bonus – the minimum deposit in this case is ₦4,000 and your deposit has to be fully wagered before you get the free bet. All other conditions stay the same as stated above.
WHAT IS THE MINIMUM DEPOSIT?
The minimum deposit you can make is ₦250.
WHAT IS THE MINIMUM WITHDRAWAL?
The minimum amount you can withdraw from your Melbet account is ₦550.
WHAT IS THE MAXIMUM AMOUNT YOU CAN WIN AT MELBET?
The absolute maximum you can win from a single bet at Melbet is ₦25,000,000.
Paul Echere – a life-long sports fan with a career in the betting industry. Paul has worked with many betting operators and platform providers since the very early days of iGaming. Having years of experience with numerous bookmakers, Paul is in an excellent position to review and rate sportsbook brands. Feel free to follow him on Facebook and LinkedIn to find out what he is up to.