BETWINNER BOOKMAKER REVIEW
OVERVIEW, REGISTRATION AND WELCOME OFFER
BetWinner is an internationally recognized betting brand, who luckily also have a dedicated Nigerian website. They operate under a valid sports betting license issued by the
Oyo State Gaming Board
. This allows them to accept Nigerian players and it's definitely good news, since BetWinner does have quite a lot to show.
First off, we would like to say that we went over BetWinner's terms and conditions page and it appears to be quite clear and in line with the rules and regulations, that their license enforces. Of course, be sure to check them out yourself as well if there are any specific points you might be interested in.
BetWinner has several possible registration options, which we are going to take a closer look at right now. You can register using your email address, in which case you will need to fill out a generic registration form with some personal details and confirm your registration by verifying your email address.
You can also register using your phone number, in this case you will simply receive a text message with a code, which you will need to insert on the registration page.
And finally, you can use our favorite "One-click" registration option – in this case you have to literally click or tap a single button and your new account will be created. You will be automatically logged in and will see a pop-up with your new username and password, which you can save as a text file, a picture or have them emailed to you. The time it takes to register may vary but generally you can create an account in under a minute.
And one more thing, when registering be sure to use our 100NGN promo code.
As a new player you are obviously going to get a welcome bonus and if you have used our exclusive promo code, then you will get an extra warm welcome here. BetWinner offers new players a
100% welcome bonus up to ₦100,000
. The minimum deposit you have to make in order to claim that bonus is just ₦400, so you can definitely start small if you feel like it. Be sure to select the appropriate bonus option on the registration page when you will be creating your account.
Lastly, we would like to talk about support – BetWinner have a support phone line, where you can talk to an actual person and get help if needed, obviously this is a huge plus. You can also use the live chat option, email or submit a query via the "Contact us" form. In order to give you a better picture of what to expect we contacted BetWinner customer care ourselves and received a decent level of support. Our questions got answered in a reasonable time and the representatives we talked with spoke good English, so it was easy to understand them.
BetWinner offers over 30 different sports with a special focus on football betting, where you can sometimes find exceptionally high odds. No matter what season it is or what time of day you feel like placing some bets – you will definitely find something for yourself at BetWinner. We would like to give you a better idea of the coverage you can expect here, so let's have a look at football – there are usually over a 1000 pre-match football games available for betting every day. The number of markets for each game will of course vary depending on the league, however some top league games can have up to 1500 markets open for betting.
The live game offer is another strong side of BetWinner, as there can be up to a 100 live games traded throughout the day. By doing dome basic math we can conclude that you can expect over a 1000 live games covered on a monthly basis. As expected, market variety will strongly depend on the league, however you can generally expect a live football game to have between 100 and 300 open markets.
SPORTS COVERED BY BETWINNER
Alpine Skiing, American Football, Australian Football, Awards, Badminton, Bandy, Basketball, Beach Soccer, Biathlon, Bowling, Boxing, Chess, Cricket, Cross county Skiing, Crossfit, Curling, Cycling, Darts, Entertaiment, Entertainment, Figure Skating, Floorball, Football, Formula 1, Futsal, GAA Football, Gaelic Hurling, Golf, Greyhounds, Handball, Horse Racing, Ice Hockey, Lifestyle, MMA, Martial Arts, MotoGP, Motor Sports, Motorbikes, Netball, Olympic Games, Pesapallo, Politics, Rugby, Rugby Union, Snooker, Special Bets, Speedway, Surfing, Swimming, TV, Table Tennis, Tennis, Triathlon, Trotting, Volleyball, Water Polo, Winter Sports, Baseball
Like any serious bookmaker BetWinner has a live streaming service where you can watch actual games as you bet. You can generally find live streams available from a number of different sports, but football is what brings the most value here – all top football league games are usually available at BetWinner in high quality and absolutely free of charge for registered players.
Even though BetWinner is an international brand, it is specifically tailored for Nigerian sports fans – you can easily use Naira to make deposits, place bets and request withdrawals. There is absolutely no need to get all confused with different exchange rates. Additionally, you can make payments using Paystack, this significantly simplifies bank transfer deposits. Withdrawals can be requested to pretty much any Nigerian bank account or you can pick up your money as cash if you are in Alimosho.
The minimum possible deposit is ₦250, which is significantly less, than with most other bookmakers.
The minimum withdrawal amount is ₦550.
PROMO CODE: 100NGN. We would like our readers to get an extra warm welcome at BetWinner and this is why we have an exclusive promo code to share with you. Make sure to enter this code in the "promo code" box of the registration window when you will be creating your account. Also, feel free to share our code with your friends if you want to make their day a bit better.
BetWinner has quite a lot to show when it comes to bonuses and special offers, these range from the usual welcome deposit bonuses and odds boosts all the way to offers where you can win valuable prizes, for example a PlayStation 5 console.
As a new player you will be able to claim BetWinner's 100% welcome bonus up to ₦100,000, which will be credited to your account after you complete your first deposit. The minimum amount you have to deposit in order to activate the bonus is ₦400.
Wagering: 5x
Minimal deposit: ₦400
Bonus valid for 30 days
Required odds: 1.4 or higher
OTHER PROMOTIONS AT BETWINNER
You can insure your bets – depending on your stake, you can pay some extra money to "insure" your bet and get your stake back in case it loses. Let's have a look at an example of how this works: say you placed a ₦5,000 bet with odds of 2.00 – your potential winnings are ₦10,000. Now you want to insure 100% of your bet, so you pay another ₦2,500, which are taken out of your current available balance.
If your bet wins – you will be paid the full ₦10,000. Given that you had already paid ₦2,500 as an insurance, your overall profit will be ₦7,500 – if you use this functionality wisely it can significantly help you manage your risks while betting.
If your bet loses – you will get your original ₦5,000 stake back. Given, that you had already paid ₦2,500 to insure your bet – your overall loss is ₦2,500 instead of the full ₦5,000.
Every Thursday BetWinner gives players an option to claim a 100% deposit bonus up to ₦50,000. This bonus is available once a week for all registered players.
Every day BetWinner composes a list of selected accumulator bets, where you can get a 10% odds boost.
BONUS FOR A SERIES OF LOST BETS
If you are down on your luck and things just don't seem to come your way – BetWinner will give you a bonus to cheer you up. If you have lost 20 or more bets in a row you will get a bonus – the bonus amount will depend on the size of your lost stakes.
Paystack, ENTERPRISE BANK, MAINSTREET BANK, Access Bank, CitiBank, Access Bank PLC (Diamond), EcoBank, FCMB, Fidelity Bank, First Bank, GTB, Heritage Bank, Keystone Bank, Skye Bank, Stanbic IBTC Bank, Standard Chartered Bank, Sterling Bank, UBA, Union Bank, Unity Bank, Wema Bank, Zenith Bank, Visa, MasterCard, Verve, USSD
BetWinner have optimized their website to work very well with mobile devices, however you can also download their betting apps – this way everything will be just a couple of taps away. Both, Android and iOS apps, support mostly everything you can do on the actual desktop site, so you don't have to worry about missing out on content or functionality.
Apple users will have to follow the
registration link
 which will take you to the actual BetWinner website – here you will need to register an account, scroll to the bottom of the page and open the "Mobile Apps" page. There you will find instructions on how to install the app and once you install it you will be able to sign in with your newly created account.
If you are an android user – then simply press the button below to start downloading the app, while it is downloading you can go ahead and create an account. Once you have an account and the app installation file download has finished – install the app, sign in with your account and enjoy.
BETWINNER DESKTOP SITE OVERVIEW
A functional and user-friendly interface design is usually a good sign when it comes to betting sites, as this will enable you to find exactly what you need in just several steps, markets and selections should be clearly visible and understandable while the betslip part should show all details relevant to your bet and additional options and/or features if applicable. Below are some examples of how BetWinner's online sports betting section looks like.
As soon as you first visit BetWinner you will find that the interface is largely similar to a lot of other betting sites you may have used before. In this context it is certainly a positive thing, as you will be able to intuitively navigate and find what you need. The UI is also fairly informative, as you can see – there is an indication of how many games are currently available under a given sport as well as an indication of the number of open markets within every game. This way you have a good overview of the overall offer and saves you some time, because you will not need to jump between pages just to see what is available.
BetWinner has another noteworthy feature we like quite a lot and that is "Multi-live". This feature allows you to fit several live games onto the same screen. You can see what is going on in each game at the same time, place bets in real-time without the need of switching between different tabs and even combine selections from your selected games in the same betslip.
BETWINNER AFFILIATE PROGRAM
BetWinner also hosts a referral program, where you can sign up as an affiliate and start promoting their brand. As a newcomer you can expect to get a 20% revenue share for any new player you bring in. Obviously, if you perform well and bring in traffic – the share percentage will increase.
If you want to give it a go, first you will need to sign up and fill out the registration form. Once your registration form is submitted, you might need to wait a couple of days for it to be approved, so don't panic if you won't get a reply instantly.
You will receive an email notification as soon as everything is ready and you can then start earning your commission. Sign in to the affiliate portal with your credentials and get your personal affiliate links – you will then need to share your affiliate links with other people. If you have a personal blog or a website or if you are active on social media, that would be a good place to start. You will get a commission for every player who registered using your affiliate links for as long as that player is active.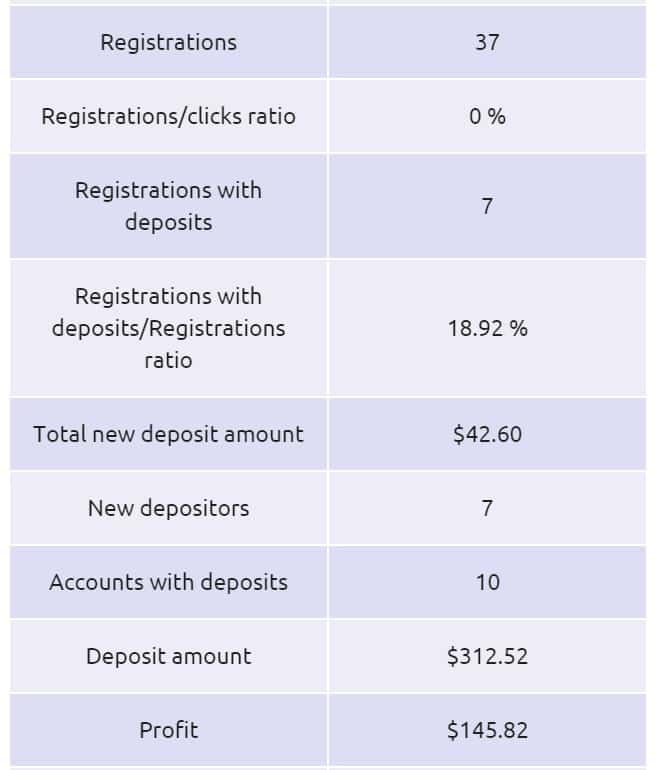 FAQ | FREQUENTLY ASKED QUESTIONS
HOW TO REGISTER AT BETWINNER?
First of all, you will need to follow the registration link, which will take you to the BetWinner website, where you will need to press the "Register" button. You will then see a registration window with three possible options: one-click registration, register with a phone number and email registration.
The quickest option is to go with "one-click" registration, you will not need to enter any personal details – that can be done at a later stage. But be sure to add in all the required details, since that will allow you to claim more bonuses.
You can use your phone to register – you will be required to receive a text message with a code and insert that code on the registration page. Here you also don't need to add any personal information at this stage.
Finally, you can register using your email address – this option takes a bit more time, however you will already have all your personal details added, so you will not have to do it later. You will be presented with a standard registration from, where you will need to add details like your name, address, email, date of birth and so on. Once you complete and submit the form you will receive an email with a verification link which you will need to open and you should be good to go.
P.S. Make sure to select your welcome bonus on the registration page before you create an account.
HOW TO CLAIM THE WELCOME BONUS?
All you have to do in order to claim the welcome bonus is make your first deposit of ₦400 or more and it will be automatically credited to your account. Don't worry if you haven't selected the bonus offer on the registration page – you can still do it on the deposits page.
WHAT IS THE MINIMUM DEPOSIT?
The minimum deposit you can make is just ₦250, so you can start small if you feel like it. However, please keep in mind that in order to claim the welcome bonus your first deposit has to be at least ₦400.
WHAT IS THE MINIMUM WITHDRAWAL?
The minimum amount you can withdraw from your BetWinner account is ₦550.
IS BETWINNER LEGAL IN NIGERIA?
Yes, it is. BetWinner holds a valid sports betting license issued by the Oyo State Gaming Board, which you can always check on the regulator's official webpage.
DO YOU NEED TO VERIFY YOUR ACCOUNT?
You can register and start betting without this, however once you will be ready to make a withdrawal – you will be required to verify your identity. This is a standard procedure for all legal betting sites.
HOW TO CLOSE YOUR ACCOUNT?
If you want to close your BetWinner account simply get in touch with support and they will be able to assist you with this.